Mission
To provide a forum for discussing issues affecting the Fort Gaines neighborhood.
To sponsor activities to improve the quality of life for Fort Gaines residents.
To work with elected officials, DC government agencies, local schools, police, and other citizen groups to improve services and life in Fort Gaines.
Membership
Membership is open to people who live within the Fort Gaines neighborhood and are current in the payment of their dues. Eligible members please download the FGCA Membership Form, fill out and return with payment to Anne Sullivan, 4431 Springdale St., NW.
Fort Gaines Citizens Association Facebook Group
FGCA Members please go to Facebook Fort Gaines Citizens Association Facebook Group
Dues
Membership forms and $20 (annually) cash or check should be submitted to the Fort Gaines Secretary.
Meetings
When: Three Times a Year (Fall, Winter and Spring), from  7:15 PM – 9:00 PM
Next: October 4th, 2016 at 7:15PM to 9PM – Fall Meeting
Where: Welcome Center in the Katzen Art Building on the 2nd floor – 4400 Massachusetts Ave NW, Washington, DC 20016
Fort Gaines Citizens Association Bylaws
The Bylaws of the Fort Gaines Citizens Association are available for download.
Fort Gaines Citizens Association Boundaries
Sedgwick Street NW
Tindall Street NW
45th Street NW
44th Street NW
Upton Street NW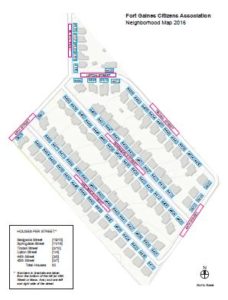 Your feedback and suggestions. Use our Contact Us page to tell us what we're doing right or what we can improve on.